Welcome to Liberty Meadows
Featuring the work of world renowned comic book artist Frank Cho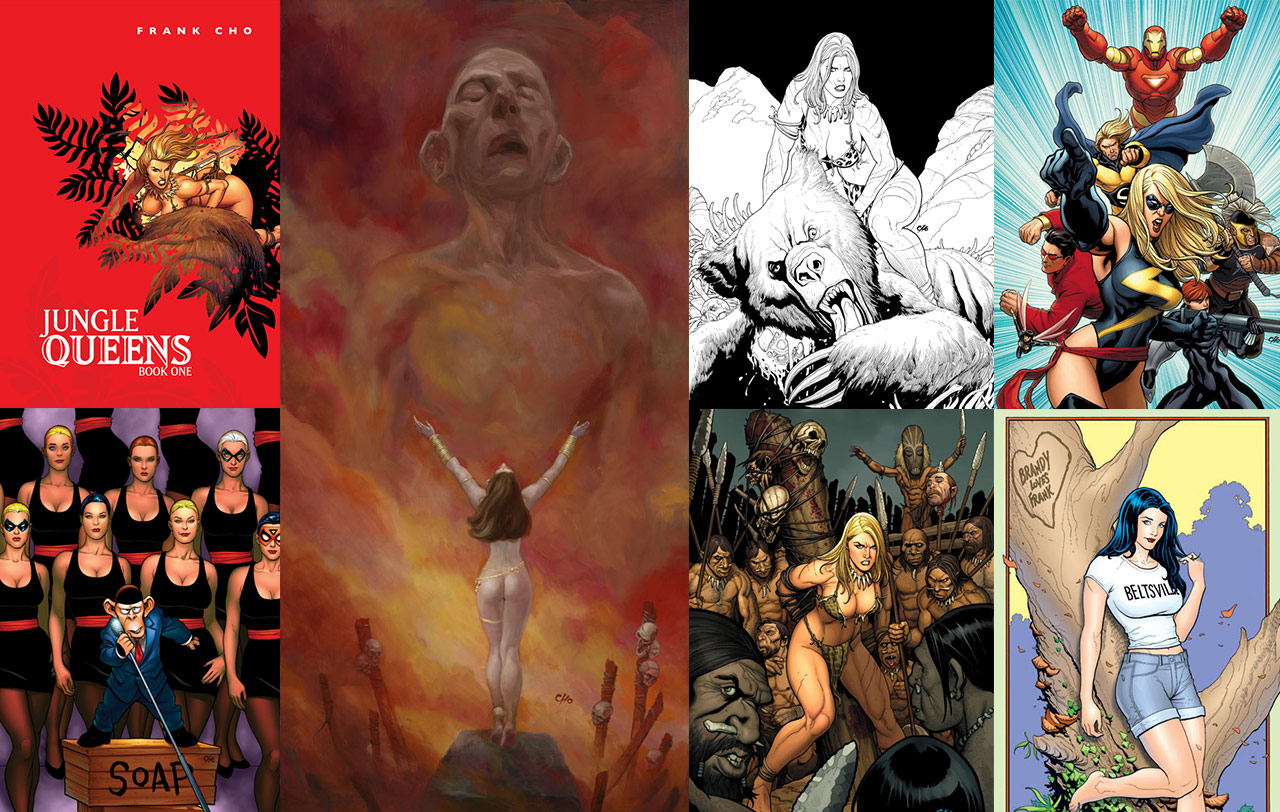 About Liberty Meadows
This website is dedicated to the work Frank Cho to showcase his work and provide information about this renowend comic book author and illustrator.
Frank Cho - Who he is and what he's done
Frank Cho is perhaps one of the most accomplished comic book writers of all time. Cho, born Duk Hyun Cho, is a Korean-American illustrator and writer and is well known for different series of comic books, including popular Marvel Comic books as well as Jungle Girl and the hit series Liberty Meadows. After moving from Korea at age 6, Cho grew up in Maryland, US and by age 10, he was copying art form other comic books. Cho attended college and received a B.S. in Nursing, but continued to nurture his raw talent and love for comic book illustrating. Since his parents were not supportive of his art, he chose a nursing degree and then went on to pursue his comic book career, a successful one at that.
Career and Accomplishments
His first work was featured in the Prince George's Community College Newspaper, The Owl, where his cartoon strip Everything but the Kitchen Sink ran. He soon began to draw the daily comic University for the student paper of the University of Maryland. During his last year of college, Cho worked on his very first professional comic book, creating stories for Penthouse Comics with Mark Wheatley and Al Gross. In 1999, as a judge at the Ignatz Awards, Cho nominated his own book, Liberty Meadows. That year, he won two awards for Outstanding Comic and Outstanding Artist.
After college, Cho signed a 15 year contract with Creators Syndicate for this comic strip Liberty Meadows. After five years in print, Cho pulled Liberty Meadows from the syndication and continued to print it in a book form, completely uncensored. As he worked on Liberty Meadows, Cho started working with Marvel Comics in 2000, doing cover work for Ultimate Spider-Man Super Special, The Savage Dragon, Hellboy and others. He soon started full interior work on other Spider-Man books for Marvel. For a few years, he worked with Marvel on many comic books and also became the cover artist for Jungle Girl, from Dynamite Entertainment.
In 2013, Marvel offered a premier of Savage Woman, a series that was completely written by Cho that starred Wolverine and Shanna the She-Devil. His work with Marvel has been recognised around the world and Cho is now considered one of the best comic book illustrators of all time. After years of working for college and community papers, Cho got a lucky break with a Marvel contract and continued to spend free time developing Liberty Meadows into a hit comic series. While Cho has been the subject of controversy with his sexy sketches of full endowed women, he is still one of the best illustrators of all time.
Accolades and Awards
When Cho made the decision to make comic book illustrating his career, he got off to an amazing start. His first awards were captured in 1999, when he won two Ingatz awards for Liberty Meadows. He them went in to win the Max and Moritz Medal for Best International Comic Strip as well as the Charles M. Shultz Award for Excellence in Cartooning. In 2001, Cho won the National Cartoonists Society's Award for Best Book Illustration as well as for Nest Comic Book. The awards continued coming with the Haxtur Award for Best in Show in 2006 and for Best Artist in the same year. Cho has also won an Emmy Award for the documentary: "Creating Frank Cho's World" in 2011 and The Daily Record Influential Marylander Award for Communication, also in 2011. Cho has received multiple nominations for Harvey Awards and has successfully published three books, the first being University Squared: The Angry Years in 1996. In 2009, he authored Apes and Babes Volume 1 and in 2007, was the illustrator for Modern Masters Volume 14: Frank Cho.